ABOUT US
In this section you will find out what Care for Cancer is, who we are, what we do and most importantly how we can help you.
Who we are and What we do.
Care for Cancer is a local charity which supports the community of Omagh and its surrounding areas. We provide information and practical support to cancer patients, their carers and families.
Here at Care for Cancer we offer a range of services to patients, their carers and their families. Some of these include:
A drop-in centre run by experienced volunteers.
Transport for patients to hospital appointments.
Complementary therapies. We offer aromatherapy, reflexology and reiki. This service is available to both patients and their carers.
A bra-fitting service for women who have had breast cancer surgery.
Provision of recliner chairs for the terminally ill.
Counselling.
Support groups for those affected by cancer and the bereaved.
An information library consisting of relevant books that people can consult or borrow.
A range of classed including yoga and lifestyle courses.
Social activities, run to support patients, their families and the bereaved which are open to everyone.
We are a registered charity, so we rely completely on donations, people's generosity and our volunteers in order to continue to deliver our support services. We also hold fundraising and social events to help raise money and awareness to support our work. We strive to provide support to all users in a professional and courteous manner and we always love to see our families, patients and supporters getting involved in the work that we do.
Care for Cancer HMRC Registration NIC 103595.
ABOUT US 
A Brief History of Care for Cancer by Claire Martin (Omagh Today)
THERE'S a cliché that says a woman is like a teabag; you never know how strong she is until she's in hot water. When local woman Joan Hamilton faced one of the most difficult situations any of us can imagine, she found a strength and determination she didn't know she had – and used it to change not only her own life, but the lives of countless others.
Joan was born in Co. Donegal and moved to Castlederg in 1960, aged 10. She was educated at Castlederg High School and left school at 16 to find work. On a snowy night some years later she met her future husband Harold at a dance in Pettigo and the pair married in 1973 at Garvetagh Presbyterian Church, before settling on a farm in Fintona. Two years later the pair welcomed not one but two newborn sons – something of a surprise delivery, as Joan explains: "In those days there were no scans, so we didn't know we were expecting twins. After the first baby was born the doctor left the room, but a few minutes later they called him back in because there was another baby on the way! I was in shock. Harold wasn't allowed in with me during the birth and when he came to see me afterwards I asked him if he had been down to the nursery. He said he had, but that there were two babies with Hamilton name tags so he didn't know which one was ours. When I told him they were both ours he collapsed into a chair!"
A third son, Keith, came along in 1978 and five years later, Joan and Harold enjoyed a 'second honeymoon' together in Canada, where Joan had her first taste of life on the piste – a hobby that would become a fixture of her life in years to come. Little did the couple know, however, that this holiday was to be their last. Tragedy struck shortly afterwards when Harold sought treatment for a sore back only to be told he had terminal bowel cancer. He sadly passed away just over four months later leaving Joan a widow at only 34 and with three young boys to raise.
During this difficult time Joan continued, with the help of her brother, to run the family dairy farm – something she did for six years after Harold's death. But at the back of her mind was a conversation she had had with Harold before he died.
"While he was still alive we had a conversation about information and support in the area," Joan explains. "I was frustrated that there were no groups in the west. Harold simply told me to 'do something about it' – so I did."
At that time Joan's friend, the Rev Ivan Abbott, also had cancer and his wife Paddy and Joan supported each other through their toughest times. After Ivan died, Joan and Paddy combined the monies they had received in lieu of flowers, recruited local man Desmond Preston as a third member, and 'Care For Cancer' was born.
Their aim was simply to provide support and a listening ear for those affected by cancer, and in the early days that was done via a helpline service. "Before we had premises, we used to just carry a phone around looking for offices to hook into," Joan recalls.
In 1990 the group managed to secure premises at the old Royal Arms Mews, and their official opening was attended by the Duchess of Abercorn and UTV's Paul Clark. Having a proper base meant that the charity could provide a more hands-on service, offering advice and support on a drop-in basis and also working in the community to help in any way they could – sitting with cancer patients, taking them to appointments and offering emotional and practical support to families.
"By that time our membership had grown and we had a number of health professionals involved – GPs, social workers, health visitors – so there was a fair bit of expertise there already. But we also did training with the Samaritans so that we could provide the right support for people via our listening ear service."
Understandably given her own encounter with cancer, Joan didn't always find it easy to see others' suffering laid bare. "I found it very difficult at times," she admits. "Myself and another committee member did a counselling course at Manchester University and they gave us a technique to use in the shower, where you imagine all those feelings washing off you and swirling down the plughole and that is still something I use today. But you do still take a lot home with you and it can be stressful. Then again there is so much positivity sometimes that it's inspiring – I have made so many friends and so many wonderful memories both of people who have passed away and those who are still with us, and still involved with Care For Cancer today."
As Care for Cancer grew, you might think that Joan's other commitments would have had to take a back seat – but you'd be wrong! As well as her home life, Joan juggled developing the charity with working part time at Wright's shoe shop in Omagh, and also helping out her niece at the Goldmine Jewellers. Her boundless energy even saw her starting her own business at the farm – a nearly new clothing boutique called 'High Society at the Loft'. "I had been looking across the yard at our barn and wondering what I could do with it for ages," Joan explains. "In the end it was my mum who gave me the idea for a nearly new shop. We took in all sorts of bridal and occasionwear and I really enjoyed the six years I worked across the yard in the Loft! Unfortunately when foot and mouth hit farm movement was so restricted it made working impossible and at the same time we made a decision to sell the farm."
Meanwhile, Care for Cancer was gaining momentum; as GPs and consultants dealing with cancer patients in the area got to know about its work, the service got busier and busier and by listening to what local people wanted and needed on their journey through cancer, the services it offered grew and evolved.
In November 2010 the charity was on the move again, this time to premises at Campsie Place. The new setting is larger and offers more privacy for service users as well as being much better set up for the range of facilities on offer. These include a sitting room where coffee mornings and other social events are regularly held, a library where visitors can access a wide range of literature to guide them through the many health and other issues cancer raises, an office, where the crucial daily running of the charity and fundraising takes place, an activity room and two therapy rooms.
Visitors to the centre can avail of a befriending service and a listening ear to provide support; a sitting service to give families and carers a break; a transport service to and from hospital appointments; yoga classes and complementary therapies including aromatherapy, reflexology and reiki.
Perhaps most importantly, the centre runs an open door policy so that people affected by cancer can simply drop in for a chat to raise their spirits. "This isn't a gloomy place," Joan says. "Of course everyone has bad days and there are sad times but a lot of the time there's a fair bit of laughter therapy going on here too! Our patients are great and one of the best things about what we do is being able to get to know people and build friendships with them."
What is perhaps most incredible about Care For Cancer is that it receives no government backing and no outside funding – all of the growth and development the charity has achieved over the years has been down to the sheer hard work and determination of Joan and her colleagues, as well as the generosity of local people who have raised funds. "We are so grateful to local people for their help and support – without them we wouldn't be able to carry on. It costs over £60,000 every year to keep Care For Cancer going so we really rely on people organizing events to help us meet those costs," says Joan.
Fundraising remains one of Joan's main priorities, and most of her time at Care For Cancer is spent co-ordinating events and giving talks to raise awareness about the work the charity does. But what about outside work – how does Joan relax?
"I love to ski," she says, "and I have been going skiing with my boys ever since they were children – it's one of the things that keeps us together as a family no matter how old they get! I also enjoy travelling and I'm fortunate to have visited some amazing place in my lifetime – Africa would have to be my favourite. My youngest son has just got a job in Australia so hopefully I'll get over to visit him there as well.
"I also have a wee grandson and another grandchild on the way, and I just love being a granny and having some time to spend with them. I have led a very full and active life so far and I'm always aware of how fortunate I've been with my own health. So I'm just enjoying life, because it's wonderful!"
For more information on the services offered by Care For Cancer, how you can volunteer or getting involved with fundraising, contact the office on 028 8224 6599 or email: [email protected]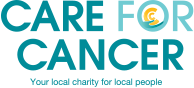 1 Campsie Place
Omagh, Co. Tyrone
BT79 OFD
Our Information and Resource Centre is open every Mon-Thurs: 9am – 3pm & Fridays: 9am – 1pm
Everyone is welcome.
[email protected]
028 82246599